Tel: +44(0)1702 200047
Mobile:+44(0)7733 895012
To send us an email click here

UK Based Suppliers of Tonewoods forLuthiers and Guitars repairs.
We are a family company that has been trading in hardwoods in the UK for many years, dealing mainly in the wholesale market. about 16 years ago we finally decided to offer our Tonewood stocks directly to Luthiers and for guitar repairs
At that time our name may have be unfamiliar in the world of luthier supplies, aside from to other Tonewood stockists,the larger guitar factories,and guitar shops with a thriving repair department, despite this our tonewoods would have probably found their way onto many of the Instruments that had left your workshop during those years.
Now, we are delighted to say that our retail profile has risen hugely around the world.
We continue to supply the Trade as well as professional and amateur luthiers alike!


Over many years of importing hardwoods for tonewoods and our inlay banding company, we have built up an extensive network of contacts around the world, and are able to secure some of the finest Tonewoods for Luthiers, much of which is cut in house.

So whether you are a master luthier, or a guitarist, wishing to build your own guitar, we can offer you some of the finest ACOUSTIC, CLASSICAL AND ELECTRIC GUITAR TONEWOODS available today.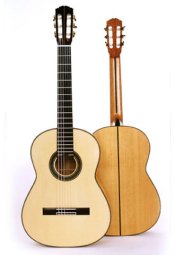 Details of carriage costs
Carriage Prices:
Although we still do not have a minimum order value requirement on orders placed through this website, we will no longer be using the cheaper courier services due to the number of lost parcels being reported to us, all our parcels will now be dispatched UPS standard.

Destinations outside UK mainland may be subject to small additional carriage charge depending on size of order,
At this time we are able to secure a carriage price to most EU destinations of
£25 or less up to 10kg.
Customers wishing to purchase from outside the EU should contact the office prior to placing an order to ensure that there are no legal restrictions on exporting the products they wish to purchase to destinations outside the EU.

Cypress guitars made by David Rouse.
How our Soundboards are graded
AAA Grade. Quarter sawn 90-100%
For exclusive high quality instruments.
Availability is very small.
Light colour, no discolouration, even tight and straight grain, a little wider at the outside of the lower bout. Allowing for one slight variation. For example very slight run out on the outside of the top.
AA Grade Quarter sawn 80-100%
For good quality instruments.
Availability small.
Same as AAA grade, but allowing for some very slight brown lines on lower bout only. very slight waving in grain, slight irregularity in spacing of grain.
Small bear claw markings possible.
A Grade Quarter sawn 70-100%
For mid-priced instruments.
Availability medium.
Same as AA grade, but with slight irregularity in spacing, white colour or with some brown lines on the lower bout, run out possible.
Bear claw markings possible.
We do not stock tonewood tops of a quality less than A grade.
How our guitar backs and sides are graded.
Classical guitar backs 500mm x 190mm x 3.8mm minimum(2x) .
Classical guitar sides 775mm x 100mm x 3.2mm minimum(2x) .
Western guitar backs 550mm x 210mm x 3.8mm minimum(2x).
Western guitar sides 800mm x 130mm x 3.2mm minimum(2x) .
In the case of species that are available in fairly large logs, Mahogany, Indian Rosewood Wenge, Maple etc, the grading criteria are as follows.
AAA Grade.
Fully quarter sawn.
AA Grade.
Quarter sawn going into slab sawn on one edge.
A Grade
is slab sawn.
***
On occasion one or more asterisks my be added to the above grades to denote a set that is aesthetically more pleasing by virtue of figure and or colour.
In the case of species that only produce smaller dimensions African Blackwood, Madagascar Rosewood etc, the same grading marks are used but refer to the general quality of the set, colour grain figure etc, and not to whether a set is quarter sawn.