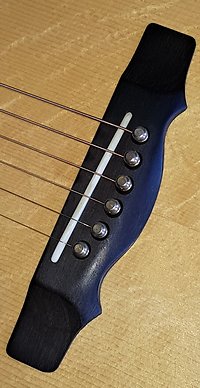 Guitar Bridge Blanks
Scroll down to see a selection from our stocks of guitar bridge blanks in various species.
The ebony we source for our guitar bridge blanks unless otherwise stated is Diospyros Crassiflora from Africa,
African ebony (Diospyros crassiflora-west Africa) guitar bridge blanks
Approximate dimensions to cover western & classical 200mm x 42mm x 12.5mm,

Indian rosewood guitar bridge blanks
Indian rosewood (Dalbergia Latifolia-India) guitar bridge blanks
Approximate dimensions 180mm minimum x 48mm x 13mm
at the last CITES convention is was determined that all true Rosewoods (Dalbergia species) would also be subject to CITES appendix 2 control, effective 2nd January 2017.
When the only stocks available to us are post convention materials we will no longer be stocking this species .

Ziricote guitar bridge blanks
Ziricote (Cordia dodecandra- Central America) guitar bridge blanks

Approximate dimensions 180mm x 45mm x 15mm